---
RELIABLE GOLD CD BLANKS FOR ARCHIVING YOUR SOUNDS AND DATA!

I have frequently found that masters stored on CDRs and DVDRs, even those made by the oldest and most trusted brands, have gone bad by simply being stored! These discs were stored in plastic cases, and 65 - 80 degrees room temperature and at low humidity. Some lasted less than a year!
It became imperative to find the best and safest media available for optical storage. Right now, there appears nothing better than MAM-A blanks. The "-A" stands for ARCHIVE!
Why is gold important? Because Gold is inert and doesn't oxidize like silver alloys. That's what most others use.
Who is MAM-A? Formerly Mitsui Chemicals of Japan, this American company based in Colorado Springs, CO. has made their mark by building the best archival media in the world. Originally engineered for the Library of Congress, MAM-A Gold is the standard for archivists around the world.
For technical information check out the following: http://www.mam-a.com/technical_papers
THE BASICS

* No other brand has the life proven by laboratory testing as MAM-A
* Expected longevity of 24 Kt. Gold CD-R blanks - 329 years
* 24 Karat Gold
* Phthalocyanine dye
* Made in the USA
TRY THEM NOW. BUY 5 MAM-Archive with matte writing surface and 700MB/80 min capacity in paper sleeves.
Price: $11.00 (IL Res. add 8.25% IST) + $5.00 shipping
---
INKJET PRINTABLE GOLD ARCHIVAL CDRS AND DVDRS
These are two of the most useful archival recordables you will require. We have a bulk package off 100, 700 MB (80 minute)
CD-R blanks and a spindle of 50, 4.7 GB (2 hour) DVD-R blanks. The print surface is white and can be printed all the way to the hub with an inkjet printer . Both have the highest known longevity of any such product.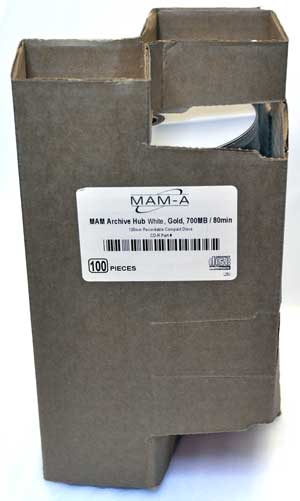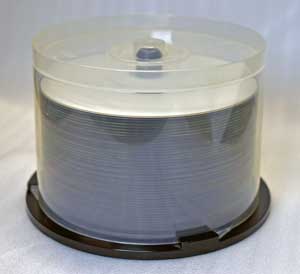 On the left is our bulk pack of 100 CD-R blanks
On the right is our spindle of 50 DVD-R blanks
Basic price and shipping for 1-lot purchase of either product is as below. For expedited delivery or larger orders, please contact us for a price.
100 CD-R Price: $200.00 (IL Res. add 8.25% IST) + $6.50 shipping
50 DVD-R Price: $135.00 (IL Res. add 8.25% IST) + $7.25 shipping
---
CEDAR PLUG-INS FOR PROTOOLS
The following software plug-ins are strictly for ProTools windows machines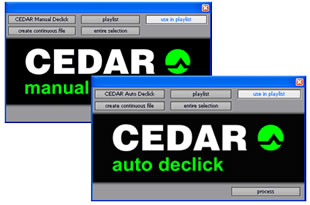 CT15 AUTO AND MANUAL DECLICK PLUG-IN
This removes the sound of ticks, pops and scratches of all sorts that are found in vintage or damaged recordings, either disc, tape, cylinder or movie soundtracks. You can use it either automatically or use it in a manual mode.
Price: $2478.00 (IL Res. add 7.75% IST) + $24.00 Shipping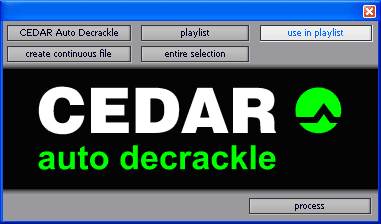 CT16 AUTO DECRACKLE PLUG-IN
This removes tiny, repetitive clicks, the "frying bacon" sounds so
common on 78 rpm discs and damaged discs. It does not reduce scratches, that
is removed by the CT15 module.
Price: $2478.00 (IL Res. add 7.75% IST) + $24.00 Shipping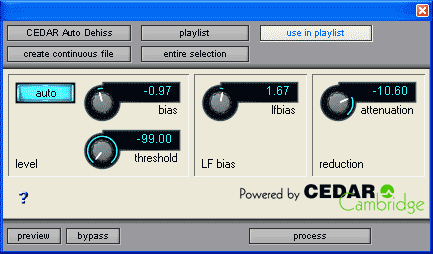 CT3/A AUTO DEHISS PLUG-IN
This removes basically what is left over from the previous moduls: hiss. Unlike
all other similar software, the Auto Dehiss module does not require a "noise
print." It automatically recognizes broadband hiss and reduces it to your setting.
Price: $3278.00 (IL Res. add 7.75% IST) + $27.00 Shipping
ALL CEDAR TOOLS BUNDLE. In addition to the above, DECLIP, RETOUCH V3, AND DETHUMP are included for
$17,298.00. You can check here for a detailed description of all CEDAR ProTools plug-in modules.
---