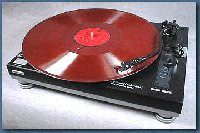 Esoteric Sound was founded because of the decreasing number of manufacturers providing specialty products in audio processing, and especially the waning number of quality turntables oriented towards vintage records. Such products are still required for archiving purposes. We almost exclusively are producers of turntables capable of playing 16 inch broadcast transcription records.
We specialize in high performance audio equipment used for the reproduction of vintage recordings and in the restoration of such recordings. We can offer advice & one-stop shopping. We have sold our products to the major national archives and libraries of many countries, and record companies large and small. We market most of our products directly from our Wheaton, Illinois location to the end users.
Well...as you can see, our company was built out of need. The need for unique, limited edition devices such as our professional noise reduction units. But, we didn't forget the average person! We are also now providing more affordable "entry level" units for the hobbyist. Cruise our site and you will experience the best in specialty audio products. We do not design nor sell products that do not have scientific basis. Thus, we have no $500.00 power line cords nor spikes to stick under you CD player. Our interconnects are 1/3 the price of our "mumbo-jumbo" competitors.
TO PURCHASE OUR PRODUCTS:
To place an order or to request literature, write to Esoteric Sound, 1608 Hemstock Ave., Wheaton, IL. 60189. We can accept payment Pre-Paid via Money Order, PAYPAL, VISA or C.O.D. We typically ship via FEDEX or UPS, but will ship via any reasonable means upon special request. Shipping charges for outside of-USA vary considerably. Please write for specifics.
To telephone or fax us, contact us via our Phone/FAX at: (630) 933-9801. If you get a message when Faxing, punch #, then 99.

You can E-Mail us at "esoterictt@aol.com".

We now take VISA/MC/Discovery and Pay Pal.
For more details on making a purchase click here.
ESOTERIC'S VINTAGE RECORDING AUCTION SERVICES:
We have sold vintage records via auction for nearly 10 years. Included are 78's, LP's, broadcast transcriptions, pre-recorded tapes, pamphlets, catalogues and books, and miscellaneous audio gear. Because most items are one of a kind, outright sale becomes a nightmare of refunds and second choices. Our response is usually quick. The minimum bids are usually quite low, and take about one-third of all winnings. If you would like to be included on the mailing list please let us know. For the most recent catalogue, CLICK HERE.